Medshore Ambulance Service provides tours of new ambulance to Barnwell County Commission
June 14, 2017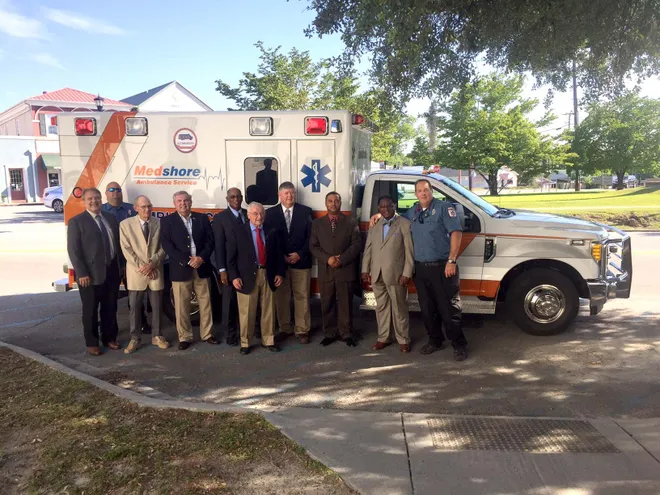 Medshore Ambulance Service showed off its newest ambulance serving Barnwell County at the monthly County Council meeting on June 13.
Medshore representatives offered commissioners a tour of the 2016 American-made Ford ambulance that was custom built and outfitted by Excellance. The ambulance will be stationed at Medshore's permanent station located at the YMCA on Joey Zorn Boulevard.
"Medshore is committed to providing the highest possible pre-hospital care to the citizens of Barnwell County," said Medshore CEO Greg Shore. "This new vehicle is the first step in upgrading our full Barnwell County fleet. We appreciate the opportunity to be a part of this community, and we take seriously the trust that its residents place in us to provide the top level of medical transport."
Medshore has provided emergency 9-1-1 service to Barnwell County since 2014 with approximately 25 employees staffing four advanced life support ambulances around the clock in the county.
About Medshore Ambulance Service
Founded in 1976, Medshore Ambulance Service is the largest privately owned ambulance service in South Carolina and has provided medical transport services to the Palmetto State for more than 40 years. Medshore serves more than 100,000 patients in South Carolina each year with 100 emergency vehicles and 520 employees.
Headquartered in Anderson, South Carolina, Medshore provides medical transport in 17 counties in South Carolina and is the emergency 9-1-1 provide to Anderson, Barnwell and Chesterfield counties. Medshore is the only ambulance service provider in South Carolina to achieve accreditation by the Commission on Accreditation of Ambulance Services (CAAS), the industry's gold standard of operational excellence. Medshore is a member of the Priority Ambulance national family of companies.