Medshore Ambulance receives national re-accreditation for operational excellence
September 16, 2019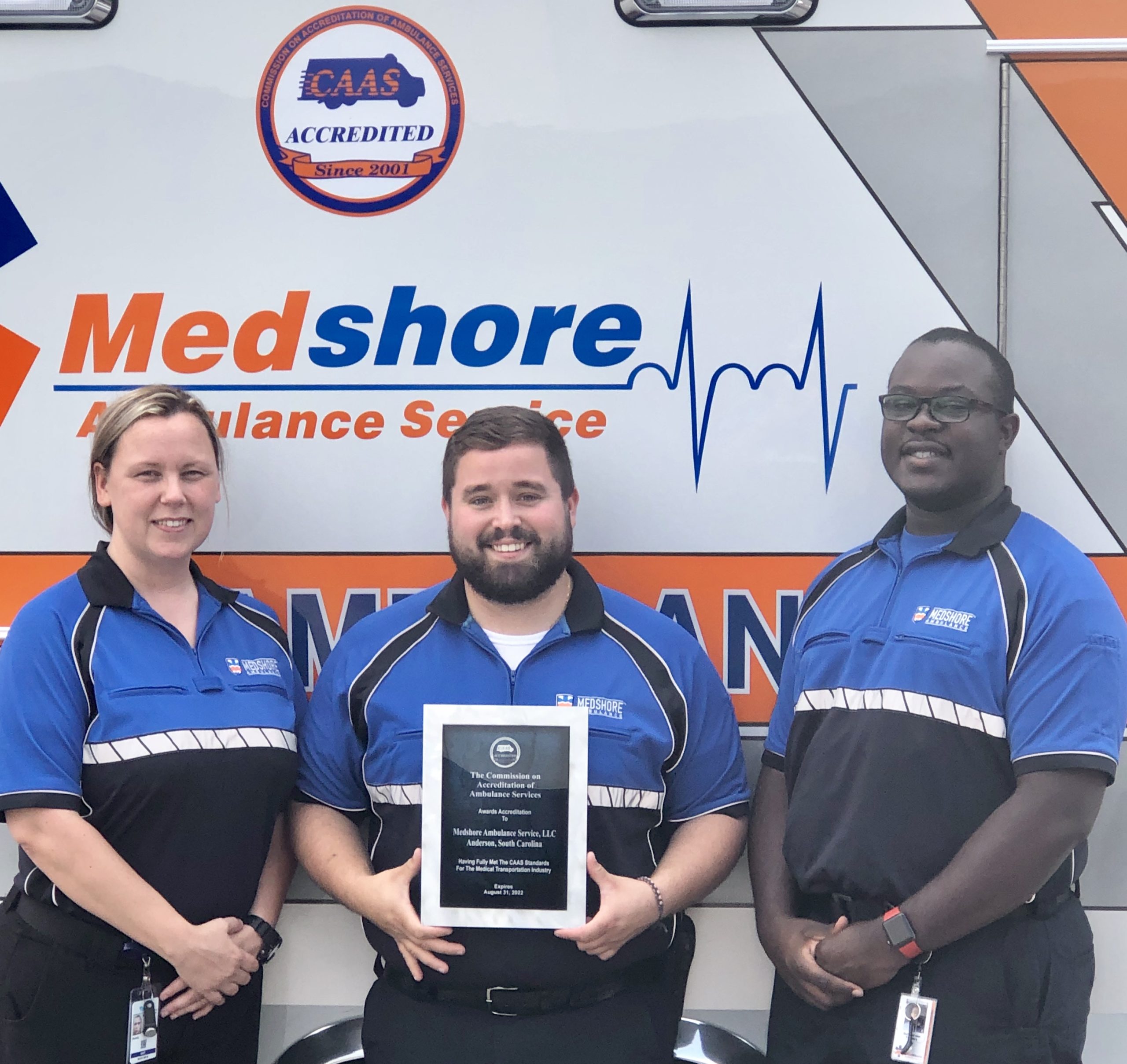 Medshore is the only nationally-accredited ambulance company in the state
Medshore Ambulance, headquartered in Anderson, South Carolina, has received re-accreditation from the Commission on Accreditation of Ambulance Services (CAAS) for its compliance with national standards of excellence. Medshore Ambulance has maintained accreditation since 2001, and the company is the first and only accredited ambulance service in South Carolina.
Medshore Ambulance successfully completed the voluntary review process which included completion of a comprehensive application and onsite review by national experts in emergency medical services. Accredited ambulances are recertified through this process every three years, and this is the sixth time that Medshore Ambulance has been awarded accreditation.
To receive re-accreditation, Medshore Ambulance provided evidence that it met more than 100 standards set by CAAS covering structure, interagency relations, management, finance, community relations and public affairs, human resources, clinical standards, safety and risk management, equipment and facilities, and communication centers.
"CAAS accreditation is the gold standard for our industry," said Medshore General Manager Josh Shore. "We view our accreditation as an affirmation of the excellent ambulance service we have provided in South Carolina for more than 43 years. Out of the approximately 29,000 public and private EMS agencies in the country, less than 200 are accredited."
The Commission is a non-profit organization established to encourage and promote quality patient care in America's medical transportation system. The primary focus of the Commission's standards is establishing high-quality patient care through national standards which not only address the delivery of patient care, but also the ambulance service's total operation and its relationships with other agencies, the general public, and the medical community. The Commission's standards often exceed state or local licensing requirements.
"Our staff has been key to our successful completion of the process," said Shore. "Everyone at Medshore played a valuable role in our ability to meet the Commission's high standards. Working in an accredited ambulance service provides our staff with a sense of pride and helps us recruit and retain the best EMTs and paramedics in the area."
Founded in 1976, Medshore Ambulance Service is the largest privately-owned ambulance service in South Carolina and is the 9-1-1 service provider to Anderson and Barnwell counties. Medshore will begin providing 9-1-1 response in Bamberg County in October.
Medshore is a member of the Priority Ambulance national family of companies.
# # #
Photo Caption: Medshore Ambulance EMT Brandy Hodges, EMT Jeffrey Byrd and EMT Terry Thomas pose with the re-accreditation plaque from the Commission on Accreditation of Ambulance Services (CAAS). National accreditation is the gold standard in the industry signifying that the company has met the Commission's rigorous standards of operational excellence.