Anderson County EMS & Medshore Ambulance Service Receives System of the Year Award (Category II-Large) at the 2023 South Carolina EMS Symposium
March 7, 2023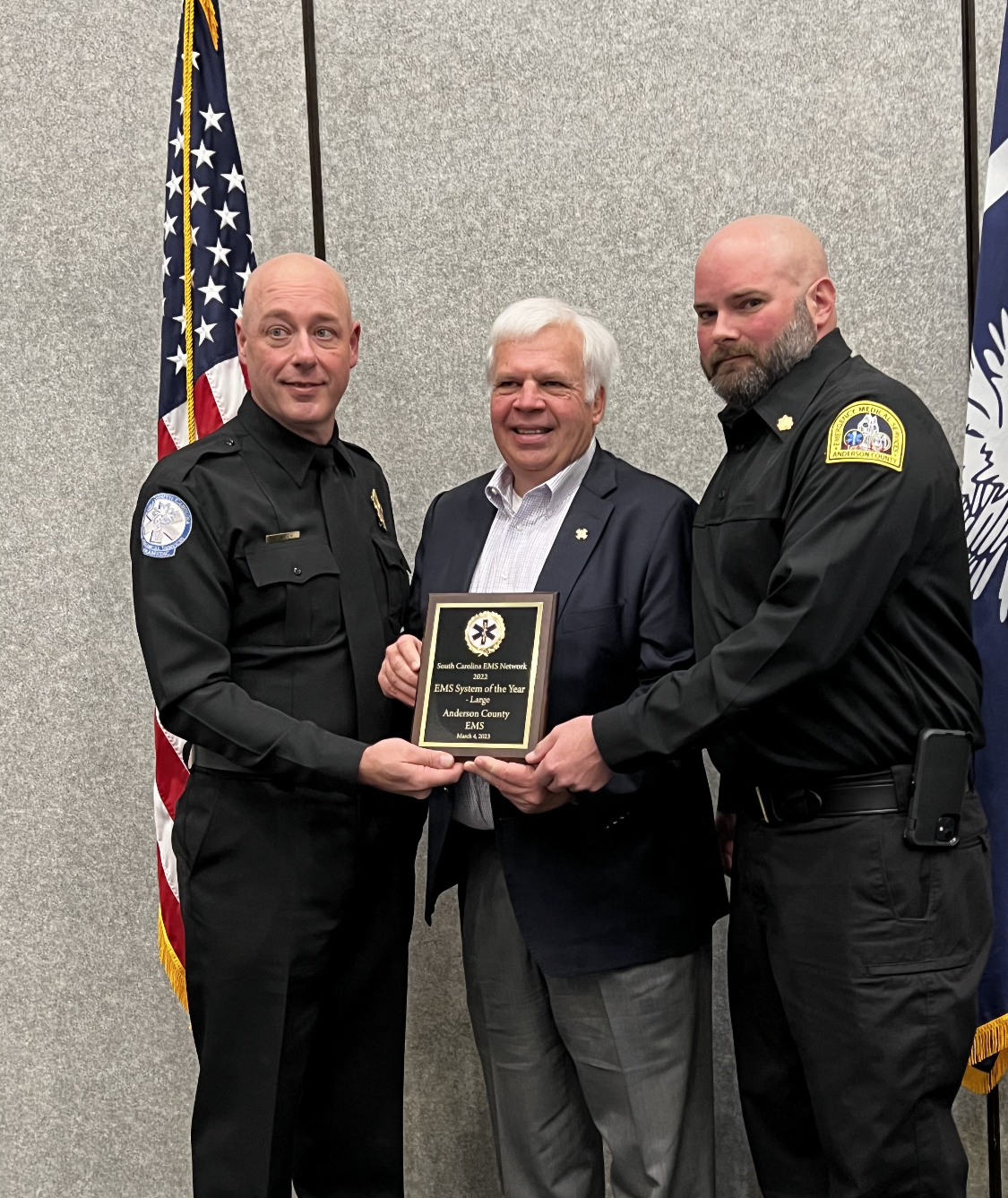 ANDERSON, SC. (March 7, 2023)—The 2023 South Carolina Emergency Care Symposium recognized Anderson County Emergency Medical Services in partnership with Medshore Ambulance Service and AnMed, as the winner of the 2022 System of the Year Award (Category II-Large). The award ceremony was held on Saturday and recognized EMS professionals throughout South Carolina who have gone above and beyond for their communities.
"We are very proud of our Medshore team who is a key partner in the Anderson County Emergency Medical Service system along with AnMed," said Josh Shore, Vice President Strategic Projects, and Governmental Affairs. "During the last year, our new EMS system has created dynamic and innovative health-care solutions that have improved response times and patient care outcomes. We are always looking to challenge our team to ensure we are providing the best possible care for our patients. This award is an affirmation that the new EMS system is making a difference in Anderson County and reflect on the positive relationships among the community's public safety agencies."
The System of the Year Award (Category II-Large) recognizes EMS agencies that exemplify professionalism and service to their community. The award committees look for agencies that have provided high-quality training for providers, awareness for the community, and created significant contribution to citizen awareness for injury prevention.
In partnership with Anderson County EMS and AnMed, Medshore Ambulance increased training of emergency medical technician (EMT) academies, increased more ambulances on the road for coverage, and other patient care initiatives. In addition to providing high-quality training, the system also introduced Quick Response Vehicles (QRVs), which allows for county paramedics and/or a Medshore paramedic to respond to emergencies in a special response vehicle in conjunction with a fully staffed EMT ambulance to all 911 requests. Upon assessment of the patient, the paramedic can assist with the transport if Advanced Life Support interventions are needed. These innovative approaches to the county's response system allow for available resources to be utilized more appropriately, leading to optimal patient care and response time compliance.
Medshore celebrated more than 21 years as the only nationally accredited ambulance company in South Carolina in 2022. The agency received re-accreditation from the Commission on Accreditation of Ambulance Services (CAAS) for its compliance with national standards of excellence.
Founded in 1976, Medshore is the largest privately-owned ambulance service in South Carolina. In addition to being the 911 provider for Anderson County, they provide 911 services to Barnwell, Bamberg, Sumter, Lexington, and Richland counties, respectively.
About Medshore Ambulance
Medshore Ambulance is headquartered in Anderson, South Carolina and serves more than 100,000 patients annually with more than 100 ambulances and support vehicles. The company specializes in 911 emergency medical transports, non-emergency service between hospitals and other care facilities and special event coverage including community support services. Founded in 1976, Medshore Ambulance is the largest privately-owned ambulance service in South Carolina and is the 911 service provider to Anderson, Barnwell, Bamberg, Sumter, Lexington, and Richland counties. The company currently employs more than 500 EMTs, paramedics, and support staff team members. For more information, visit, www.medshore.com.
About AnMed
AnMed is a 648-bed, not-for-profit health system serving the Upstate and northeast Georgia. The system is anchored by AnMed Medical Center, a 461-bed acute care hospital that has earned the prestigious Magnet® designation. The four-hospital system includes AnMed Women's and Children's Hospital, AnMed Rehabilitation Hospital and AnMed Cannon in Pickens, S.C. With more than 400 physicians and 3,700 employees, AnMed is one of Anderson County's largest employers. Learn more about AnMed at www.AnMed.org.
# # #
CONTACTS:
Media: 
Morgan Szymczyk
Associate Director, Corporate Marketing & Communications
540-940-9423 
[email protected]